Ghana Gurus Tourism e-Learning Platform Launched by Ghana Tourism Authority
A new digital platform offers people from around the world the opportunity to learn about Ghana's tourism industry.  The Ghana Guru Tourism e-Learning Platform is an interactive tool designed to help you gain knowledge about Ghana and equip you with the skills needed to successfully promote the country's tourism potential.  Hon. Barbara Oteng-Gyasi, Minister of Tourism Arts & Culture,  spoke at the official media launch for the website on July 22nd at the Accra Tourist Information Centre.  She said the platform will help Ghana to gain and sustain interest in the country as a destination place especially as we have shifted towards more digital resources during the pandemic.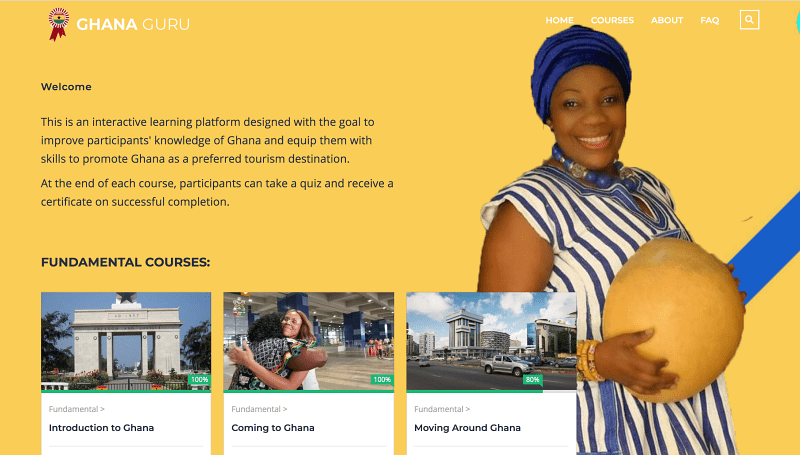 The new website can be found at www.ghanagurus.com and offers seven courses of learning where participants are awarded a certificate after completion of all sections.  Director in Charge of product development at Ghana Tourism Authority, Ben Anane Nsiah, took the time to do a demonstration and go through basics of the website during the media launch.  There are seven courses covered which include, Introduction to Ghana, Coming to Ghana, Moving Around Ghana, Culture & Regional Background, Ecotourism & Adventure, Heritage and Meeting in Ghana.  The simple website is easy to navigate and promises to help participants become more knowledgeable about Ghana and gain the expertise to promote the country as a tourism destination.
The courses are free and give one the ability to brand themselves as an expert in Ghana tourism.  The certificate received at the end is recognized by the Ghana Tourism authority making those who have completed the courses a 'Ghana Guru'.  The new platform will also serve as a good resource for tour guides, tour operators and other stakeholders in the industry to update their knowledge of Ghana.  The tourism sector is leading the way through the launch of this digital platform which is the result of adapting to the current times.
Among those present at the launch were Akwasi Agyeman, CEO of Ghana Tourism Authority, Emmanuel Frimpong, from Ghana Tourism Federation, Alhaji Abubakari Issah Osman, Executive Director of Kwame Nkrumah Memorial Park and Annabelle McKenzie, Manager for the Beyond the Return Secretariat.  Hon. Oteng-Gyasi, declared the Ghana Guru Tourism e-Learning Platform, officially launched.
By: Ivy Prosper