It is an innovative, international pageant that seeks to promote the world's tangible and intangible heritage by celebrating the integrity of women. 50 queens from 50 countries around the globe will descend on Accra to celebrate culture around the world. This year the is themed "Unity In Diversity". #MissHeritageGlobal is coming to you this August 17, 2019 at the Accra International Conference Centre! #MyCulture #MyHeritage  #MissHeritage #MissHeritage19 #MHG19

.
Performing Artists
There would be great performances from some top artists including Ghana's Tourism Ambassador and music icon Okyeame Kwame, Nigerian singer, songwriter and producer, Douglas Jack Agu, better known by his stage name Runtown.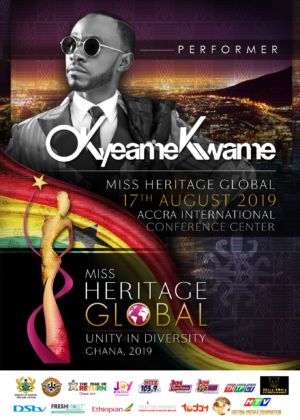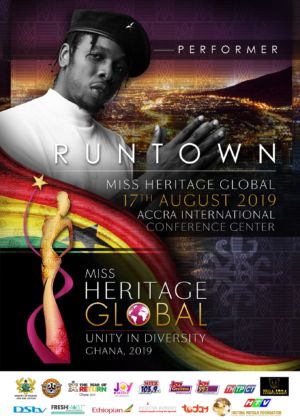 .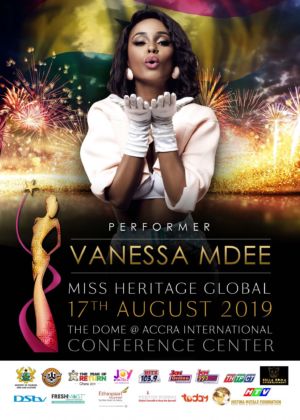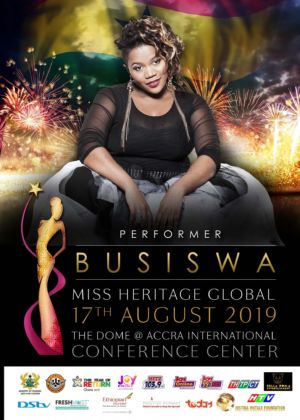 .
The Queens
Reigning Queen
My name is Theodora Marais, I'm 22 years old and I'm French: from Lille to the north of France! I come from a cosmopolitan family, turned towards the international, by a double culture of my two parents, Franco Bresiliene by my father and Beninese Senegalo by my mother. I speak the two mother tongues of my mother. I go to Senegal regularly since the age of 5 in my maternal family. I am preparing a Master of Political Science at the University of Lille. My studies allowed me to travel in Europe: Germany, Austria, Portugal. I like to study and practice foreign languages: English, German and Portuguese. In parallel with my studies, I am an animator with children. I like to share moments with them to help them. Education is a major issue that concerns the whole of society. At 17 years old I decided to pass my certificate of aptitude to the functions of animator (BAFA). It allows me to get involved in educational projects. I like the arts of the scene, the artistic expression: the theater, the song, the dance and the music. My parents gave me the curiosity and the passion to discover our history. During my free time, I like visiting museums and historical sites in France and abroad. I am also involved as a volunteer in Lille association: Ephatha is an association that helps locals come to share meals and dress cheaply. the association also works for the alphabetization. I am proud and happy to be named Miss Heritage Global! It is a challenge that honors me and is in perfect coherence with my ambitions and my life projects!
History
Miss Heritage Pageant was founded in Zimbabwe in 2012 during a visit to one o the greatest Heritage sites in the world bordering Zambia and Zimbabwe, the Victoria Falls. The pageant was founded on the basis to incorporate all nations, all religions and all people from different backgrounds to be involved in the process of initiating positive change in the world through the sharing of our world heritage. The pageant is run by the Miss Heritage Foundation which is an organization that holds the exclusive rights to host the pageant, which is the main stage that promotes world heritage through the exploration of participant countries heritage, with participants serving as ambassadors for their heritage. The concept for Miss Heritage Pageant compliments the vision, mission and objectives of (UNESCO) United Nations, Educational, Scientific and Cultural Organization Convention of 1972 and the 2003 Convention on safeguarding cultural heritage. The main objective is to use heritage as a tool for an integrated sustainable development plan throughout the world, a plan that is inclusive, promotes tolerance of others and their culture thereby changing lives. Having a National Queen in a country and an International Queen encourages the promotion of culture and heritage which leads to the revival of traditions and the possible restoration of sites and monuments. Heritage Tourism has positive impact on communities which can be grouped into economic, environmental, social, and cultural categories; these include:
building community pride;
enhancing the sense of identity of a community or region;
promoting intercultural/international understanding;
encouraging revival or maintenance of traditional crafts;
heritage events,
enhancing external support for minority groups and preservation of their culture,
broadening community horizons; and enhancing local and external appreciation and support for cultural heritage.
OUR HERITAGE IS A BRIDGE LINKING OUR PAST AND OUR FUTURE, IT IS THE WAY WE UNDERSTAND THE WORLD AND MEANS BY WHICH WE SHAPE IT.
Heritage is rooted in our cultural identities and provides a foundation of wisdom and knowledge upon which to build sustainable development for all. Miss Heritage is not a replica of any other pageant; it has its own way of doing things and offers invaluable insight into the great diversity of humanity. It is never enough to just have countries gathering at a pageant without a profound focus on change, strengthening common resolve and taking action to Safe Guard our Heritage for the benefit of future generations.
Photo Gallery
[gm album=14]