In a story just published by the Daily Mail, US House Speaker Nancy Pelosi and Democrat members on Monday morning kneeled in memory of that George Floyd as they take steps to unveil massive police reform legislation. The House Speaker and the team of Democrats including some of the Black Caucus members who were in Ghana last year were clad in Kente Stoles which is increasingly becoming a symbol for black movements.
Highlights of her speech:
'We were there for eight minutes and 46 seconds on our knees. My members will attest it's a very long time,' Pelosi said
The bill would ban choke holds, create a national registry of police officers who have been accused of misconduct and abolish non-knock warrants in drug cases
It would also abolishes qualified immunity, which currently protects police from civil litigation 
Republicans have not signaled if they will support the bill in the Senate
The legislation comes as the public demands defunding of police departments
Nancy Pelosi claimed Monday morning that George Floyd is a 'martyr' of police brutality as Democrats kneeled for a moment of silence before unveiling a massive police reform bill.
'The martyrdom of George Floyd gave American experience a moment of national anguish as we grieve for the black Americans killed by police brutality,' the House Speaker said at the podium. 'Today this movement of national anguish is being transformed into a movement of national action as Americans from across the country peacefully protest to demand an end to injustice.'
'The martyrdom of George Floyd,' she said later in the briefing, 'has made a change in the world.'
Pelosi said Democrats in Congress are 'standing with those fighting for justice and action,' and mentioned other black Americans she say are 'martyrs' who have died at the hands of police brutality.
'Let us, my colleagues, just go over some of those names of martyrdom,' she said, before listing names like George Floyd, Ahmaud Arbery, Breonna Taylor, Freddie Gray, Michael Brown, Eric Garner, Trayvon Martin and several others.
A team of Democrats, all wearing kente cloths to either honor or stand in solidarity with those with African heritage, gathered for a press conference to reveal details of the bill, claiming the piece of legislation will combat police brutality, especially with the black community.
Members of the Congressional Black Caucus memorably did not boycott Donald Trump's State of the Union address in 2018, and instead wore brightly colored yellow, green, black and red kente cloths around their shoulders after the president infamously referred to Haiti and some African nations as 's***hole counties.'
The unveiling of the proposed legislation follows two weeks of protests across the country in the wake of George Floyd's death.
Ahead of the press conference, Democrats held a moment of silence at the Capitol for eight minute and 46 seconds – the same amount of time former cop Derek Chauvin had his knee lodged on the back of Floyd's neck.
'We were there for eight minutes and 46 seconds on our knees. My members will attest it's a very long time,' Pelosi said. 'It's a very long time, and I graciously led them in falling over when it was over so that they could do the same thing, but here we are.'
The legislation includes a ban on police using chokeholds or carotid holds, would eliminate no-knock warrants in drug cases and aims to change 'the standard to evaluate whether law enforcement use of force was justified from whether the force was reasonable to whether the force was necessary.'
The sweeping package would also require nationwide use of body cameras by all police, subject law enforcement officers to civilian review boards and abolish the legal doctrine known as qualified immunity, which protects police from civil litigation, according to congressional sources.
It is unclear if the bill would receive support from Republicans, but the proposal from Democrats comes after Floyd died while in Minneapolis Police custody on Memorial Day.
Senate Minority Leader Chuck Schumer, however, pushed during the press conference on the bill that his Republican colleagues get the bill on the floor of the Senate for debate by July.
'In the Senate, Democrats are going to fight like hell to make it a reality,' the New York Democrat said of the legislation, urging Senate Majority Leader Mitch McConnell to act swiftly.
'Democrats will not let this go away,' Schumer asserted.
Congressional Black Caucus Chairwoman Karen Bass said during the briefing that she hopes 'there is a movement that has caught fire.'
A bystander video showed Chavin, a white police officer who was fired shortly after the incident, kneeling on the back of Floyd's neck for more than eight minutes. The victim repeatedly voiced his pain and claimed he could not breathe, before he went limp underneath Chauvin's knee.
The incident, which went viral, sparked widespread outrage, unrest and launched more than two weeks of riots and peaceful protests in hundreds of cities across the country.
'It is time for police culture in many departments to change,' Bass, who is spearheading the legislation, told CNN Sunday morning.
She added that she hoped the wave of protests would increase pressure on lawmakers to act.
'We're in a real moment in our country, the passion that the people are displaying,' Bass added. 'That it is going to lay the basis for the momentum for us to bring about the change that we need to do.'
More than a dozen Democratic lawmakers gathered to discuss the bill at a 10:30 a.m. press conference – and while they wore masks, the Democrats did not keep in line with social distancing guidelines, which recommends people remain six-feet from one another.
The legislation would create a national misconduct registry that would show all police officers who have been accused of misconduct.
The National Police Misconduct Registry, Democrats say, would prevent officers found guilty of misconduct too often from moving from one department to another.
The 'federal registry of all federal, state and local law enforcement officers' would include misconduct complaints and discipline or termination records, and police departments would be required to declare that each new officer hired is certified.
The bill would also officially make lynching a federal crime and include rules that would make it easier to sue a cop for police brutality.
Republicans, who control the Senate, and President Donald Trump will need to support the bill before the new measures aimed at policing become law.
Trump has repeatedly warned on social media that if Democratic candidate Joe Biden were to win the presidency in November, he would defund the police and U.S. military.
Prominent Democrats have dodged the question of defunding police and the bill being proposed Monday does not include provisions that would drain funding from police departments.
The GOP is likely to hang the defund movement on Democrats in an effort to keep their majority in the Senate and paint all their opposition on the left as extreme.
"House Democrats have gone so extreme with their 'abolish culture' that they're one step away from wanting to outlaw fire departments," Chris Pack, a spokesman for the NRCC, said. "This is insanity and not what Democrats ran on two years ago."
The Democrat's legislation does not address the issue of funding or cutting funding to police departments – but does make contingent on police receiving training on racial and implicit bias at the federal level.
Bass did assert, however, that the bill "does not provide any new money for policing."
Floyd's death in Minneapolis, where a police officer knelt on his neck for nearly nine minutes, was the latest in a string of killings of black men and women by U.S. police that have sparked anger on America's streets and fresh calls for reform.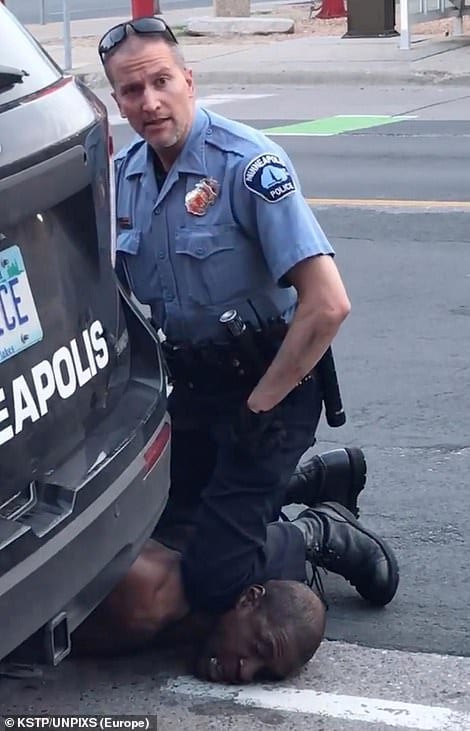 Source: dailymail.co.uk