Bills the Senate had passed recognizing the importance of the culture and heritage of the Virgin Islands were read, but it was song, dance and poetry that brought Earle B. Ottley Legislative Hall on St. Thomas alive during the morning celebration that ran into the afternoon. Viewers of the performances on its live broadcast on Facebook said the performances brought tears to their eyes.
The Ulla F. Muller Elementary School Bamboula Dancers accompanied by drummers danced in the Senate Chamber and brought comments on Facebook about how beautiful the performance was. So did the dance performance by Earth Mamas Pan African Dance Company. The third dance performance was by Empresses Addaliah and Atiyah Potter.
The program was tied together with a sober theme. It commemorated the men, the women and the children who were yanked from their West African homes and sold into slavery so a profit-crazed minority could make larger profits. A PBS video was played, "Why Did Europeans Enslave Africans?"
The video illustrated how slavery was about making a profit for slave owners and how slavery evolved into racism.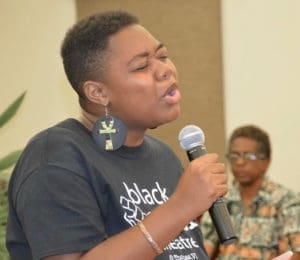 Jackson told some of the story of Virgin Islander's ancestors.
"They fought, they were thrown overboard, they were eaten by sharks, they gave birth, they died," he said. Most Virgin Islanders have the blood of the survivors "running in our veins," he said.
The connection between Ghana and the Virgin Islands' past and present families was emphasized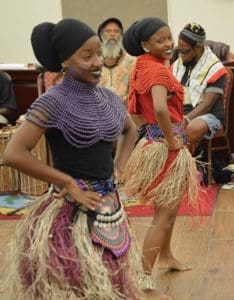 From Ghana, Alex Quaison-Sackey spoke about the connection. He is related to the first black African to serve as president of the United Nations General Assembly. Virgin Islander Myron Allick, representing the Sackey Family, spoke of that family's connection to Ghana. He proposed an exchange program between Ghana and the Virgin Islands – 25 Virgin Islanders going to Ghana and 25 students from Ghana coming to the Virgin Islands. He suggested Carlsberg Brewery, which brews Elephant, a popular beer for Virgin Islanders, as a sponsor for the exchange.
Assata Afua, director of Black Power Theater, recounted her visit to Ghana and said when she returned, "I came back to St. Thomas my shoulders back a little further and my head a little higher."
The first slave ship arrived in Jamestown in 1619. Jackson said that the settlers of Jamestown had stopped in the Virgin Islands on their way to settle Jamestown in 1607. He said. "The Virgin Islands are linked to this story, a world story."
A Dutch ship named Desire delivered the 20 enslaved Africans to Jamestown. Some historians estimated that more than 7 million slaves were taken from Africa in the following century.
Jahwed David read a poem recalling the words of Maya Angelo "I am the hope and dream of slaves."
Behind the speakers in the Senate Chambers was a large portrait of Edward Wilmot Blyden, widely known as the father of Pan-Africanism. He was born on Saint Thomas in 1832. He migrated back to Africa where he became a political figure.
Emancipation Day – July 3 – commemorates the day in 1848 when 9,000 enslaved Africans on St. Croix demanded their freedom, forcing Gov. Peter von Scholten to declare, "All unfree in the Danish West Indies are from today emancipated."
Source: St. John Virgin Islands